When my boyfriend and I left for Iceland on the evening of March 8th, it seemed not only like a good decision, but a trip that was meant to be. Two days later, the world changed.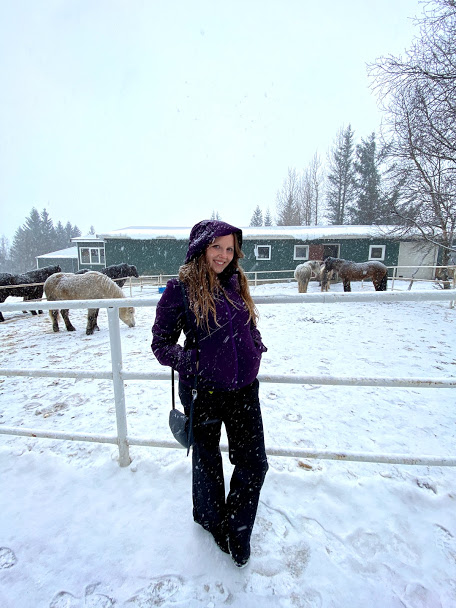 I'm a kindergarten teacher. The week before spring break started on Friday, March 6th, was exceptionally busy for me. It was also the week the first few confirmed cases of COVID-19 popped up in Houston and Fort Bend. In retrospect, this should have been a warning sign, but in the moment my rationale was, "well, I guess I'm no safer here than in Iceland!"
Normally, I pack everything for my travels way in advance. This time, I was scrambling to throw last-minute items in a bag at 4:30 pm on Friday after work. I couldn't find my waterproof ski pants. I couldn't find my universal converter. I cursed myself for not packing earlier. Finally, I rounded up the rest of my belongings and hopped in a Lyft to Hobby airport for my 7:30 pm flight. I was meeting my boyfriend, Vishnu, in New York for the weekend. We would hang out with college friends in the Big Apple for the weekend, and then fly to Iceland on Sunday.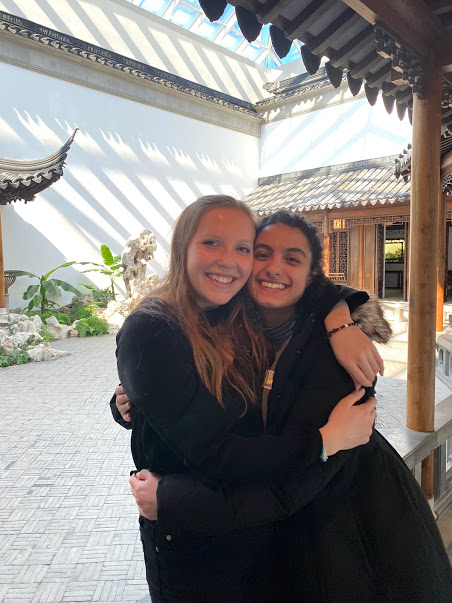 The trip was planned since January 2nd. Just days after the initial coronavirus outbreak began. I had scrupulously compared flight costs, and found that two flights were cheaper than one when it comes to flying from Houston to Keflavik – and with two separate flights, I could stop over in NYC, one of my favorite cities. I had done the research and made the Google Doc. I had booked the Blue Lagoon, the AirBNBs, and the rental car. I had downloaded an offline map on my phone and plotted our drive. I had thought of everything, it seemed.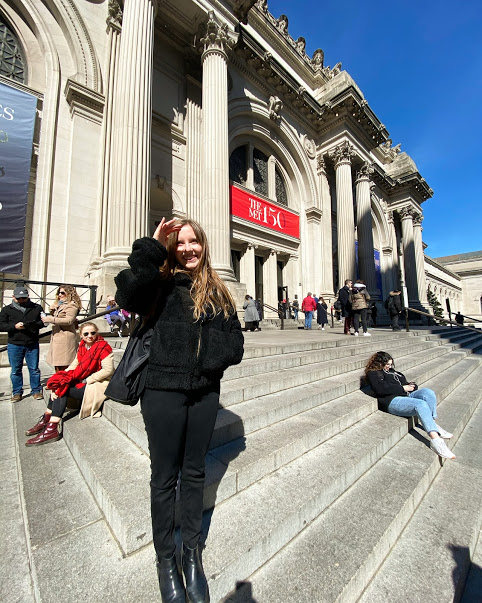 After a fun Saturday in New York that included the Met, bagels in Central Park, and a quick trip to REI in SoHo for last-minute Iceland clothing, I came to an unfortunate realization while drinking pre-dinner alcoholic seltzers at our friend's East Village apartment. "Check in for your flight tomorrow!" said the email from Icelandair. I eagerly opened the email to check my boyfriend and I in. First, it asked for our names. Then, it asked for our passport information.
And that's when I realized. I. Had. Forgotten. My. Passport!!!
I've never done anything so stupid with regards to trip planning. It's just not me. But that week, it was. I was stressed with work and I forgot. The feeling hit me like a ton of bricks. I had saved up for so long on my teacher's salary to pay for that trip, and everything I had planned.
Immediately, I got up and went into my friend's kitchen, leaving my friends to wonder if I was okay. I quickly explained to Vishnu what happened when he followed me into the other room, and his mouth dropped. He was very reassuring the whole time, and for that I am very grateful. I freaked out enough for the both of us.
The first people I called were my parents. They gave me a few suggestions, but ultimately conceded that I might be hosed. I Facetimed my roommate and told her where my passport was in my room. This angel was on standby, ready to do what I needed with it. I checked with overnight shipping services. If only it weren't Sunday, I could've had it in hand the next day. My roommate took it to the airport, while I tried to call airlines to see if they could put my passport on a flight to New York. I ended up on about five callback lists with American, Southwest, United, and Delta. I frantically posted in two Facebook groups I was a part of: "Travel Fashion Girls" and "Girls LOVE Travel," desperately hoping someone could help.

We met up with all of our friends for Thai food, but I spent most of the time on the phone, on hold with various airlines. My roommate had her TSA friend call me (when I finally gave up on the airline holds). It seemed I would likely be able to get on the flight without a passport, but the risk was being detained in Iceland upon arrival. Not ideal. I even looked to see if I could fly back to Houston and back to NYC within 24 hours, but it was just prohibitively expensive and time consuming. Vishnu and I did more research over green curry and pad see ew. It appeared the Brooklyn passport office was open the next morning from 9-12. I wasn't sure if they did same day expediting, but it was worth a shot. We made a plan to arrive early before they opened, finished our dinner, resigned ourselves to the fact that a week-long stay in New York really wouldn't be so bad, then took the metro back to our AirBNB and went to sleep.
The next morning, my post was approved in Travel Fashion Girls (not Girls LOVE Travel, I'm still not sure why hahaha). I was flooded with advice quickly, particularly about the passport office. That seemed like my best bet, unless I could find a friendly flight attendant willing to fly my passport to NYC. Various people chimed in to let me know what I needed for a same-day passport: filled out forms and passport photos. So, I rushed to a print shop at 7:30am, then to CVS for passport photos as soon as they opened at 8, and made it to the passport office by 8:30. I was the 4th person in line waiting for them to open at 9:00.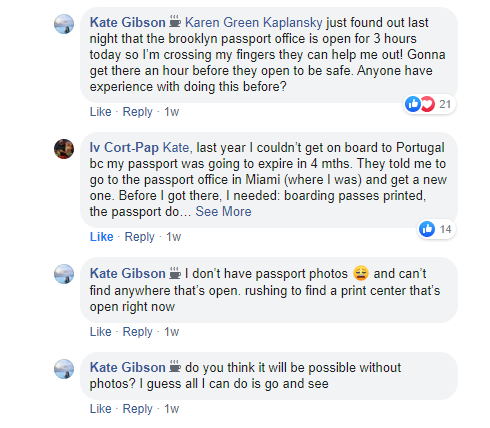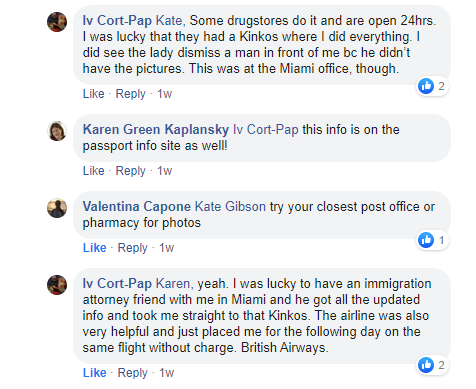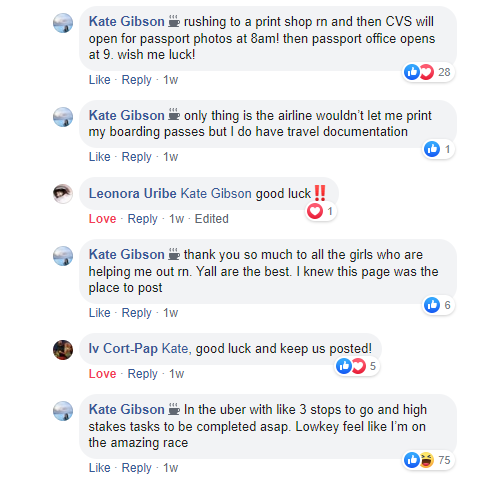 My hopes were soon dashed at the Brooklyn passport office when they told me they don't do same-day expediting, and the Manhattan office that does isn't open on Sundays.
I cried a bit in the atrium of the Brooklyn Public Library (where the passport office is located) while Vishnu was being extremely comforting, and then tried to call the airline to see if they would change my flight to the following night. That way, I could go to the Manhattan passport office first thing Monday morning. They wouldn't change it.
I accepted my fate of canceling my trip to Iceland. I would go another time, I reasoned. My grandmother, a seasoned travel expert and my role model, had some concerns about me traveling internationally. So maybe it wasn't meant to be. We accepted that we could stay in New York for the week, see some shows, do some shopping, and everything would be great. I was bummed that I wasted so much of my savings, but money is just money. Iceland would wait.
Then, I got a message from a Travel Fashion Girl named Barbara Bailey – a hero! She works for Delta, she has friends at the Houston airport, and she had a plan. Within the hour, my passport was on the way to the airport with my friend, who would give it to a Delta employee that would send it on a flight to JFK, landing 4 hours before our flight to Keflavik was scheduled to take off.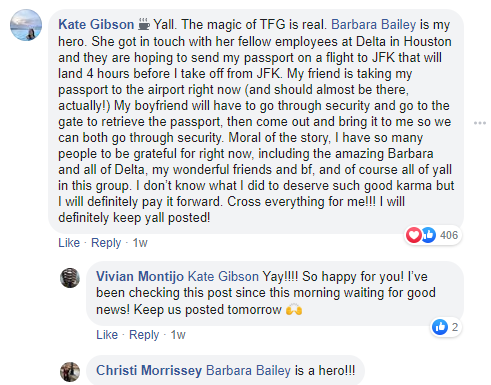 That day at 4:30, I was reunited with my passport. I still can't be thankful enough for the kindness of Barbara, who I've never met.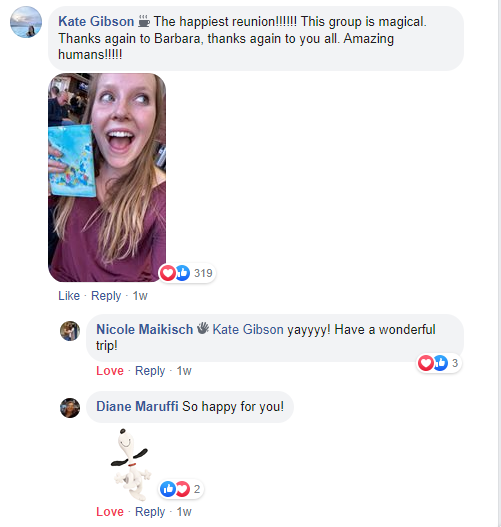 We made it to our flight no problem, rested up, and were ready to wake up the next morning in Iceland. It seemed like the craziest thing that could happen was already behind us. We had no idea how wrong we were.
We picked up our rental car at SAD Cars on Monday morning (March 9th), and after a few minutes of deliberating, decided to name her Ygritte. We're both Game of Thrones fans (well… the early seasons, at least) and it seemed fitting now that we were in the landscape north of the wall. Although we thought it was a badass name for her at the time, it turned out we were ultimately dooming her to a similar fate as the character Ygritte. We'll get to that later. 🙂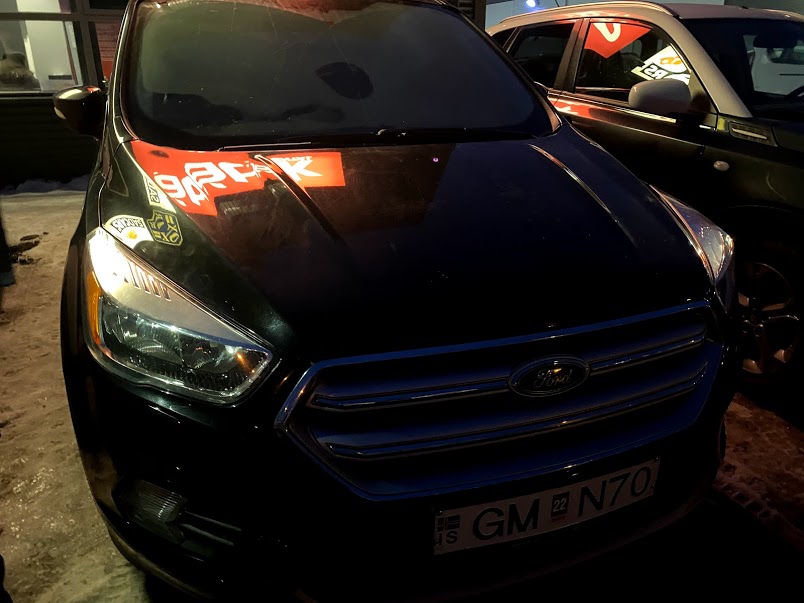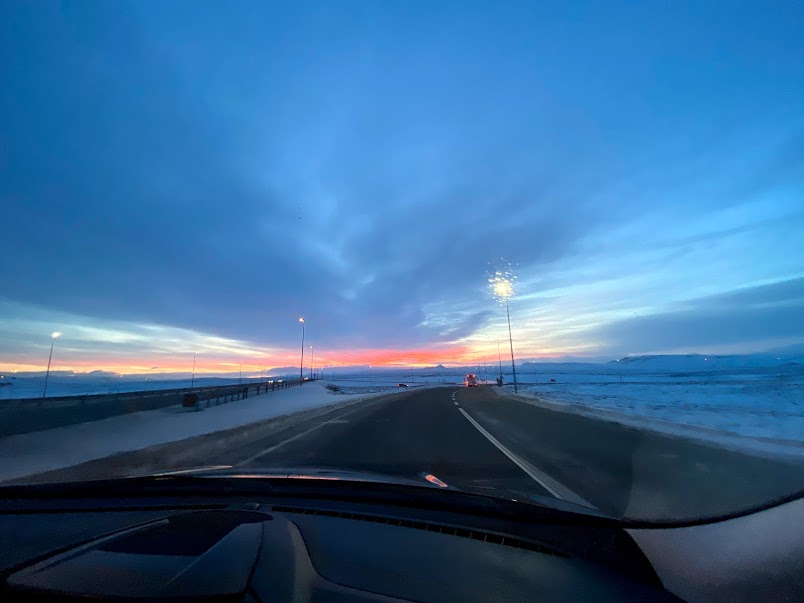 We were both amazed immediately with the beautiful scenery as we drove to our first stop, the Blue Lagoon. Everything was fabulous.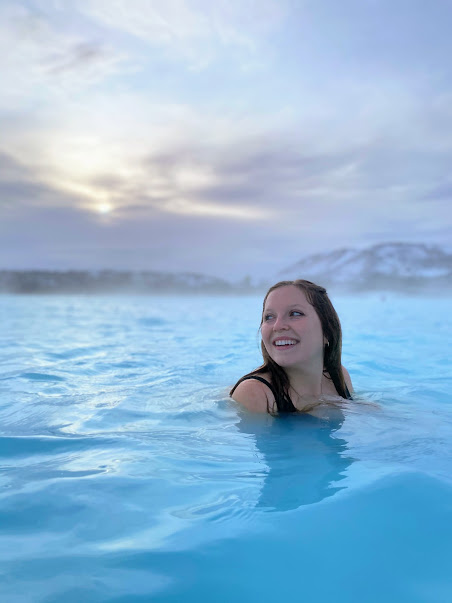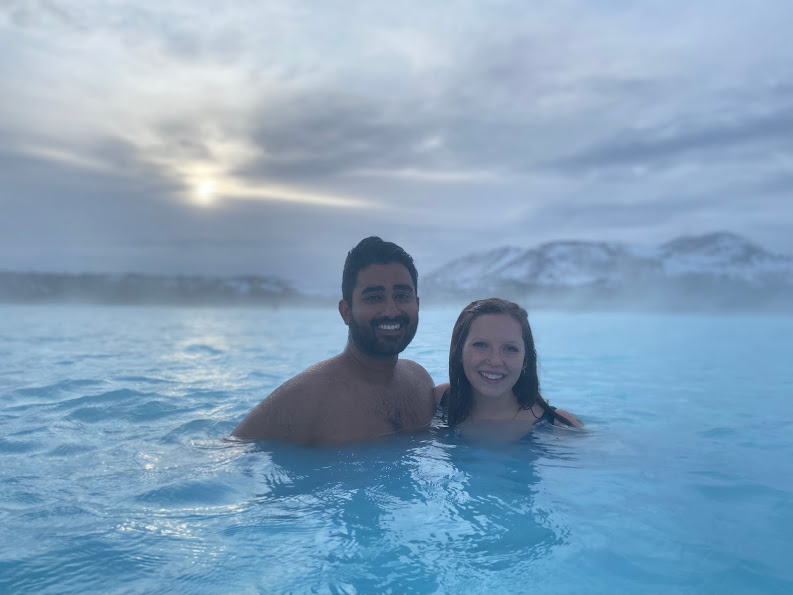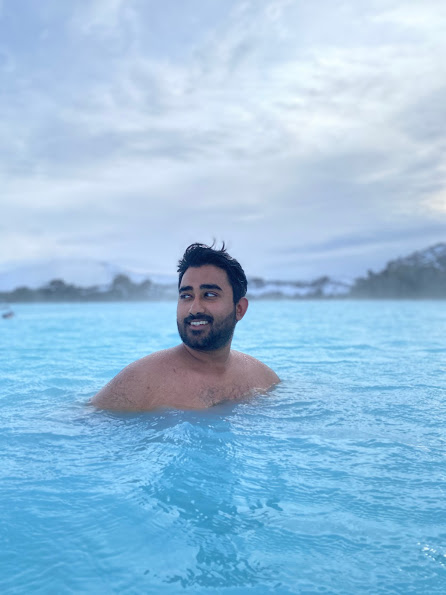 We had an absolutely amazing, relaxing time at the Blue Lagoon, and stayed there until around 12:30. It was also the last time we would feel so stress-free and rested for a while, haha.
We picked up some car snacks at the Netto nearby, including oranges, muesli, bread, and licorice. Then we began our extremely scenic drive to our AirBNB in Vik, a rustic farmhouse, with a few planned stops along the way.
At one point along the road, we saw a car that had gotten stuck in some snow on the side of the road, and some people trying to push, shovel, and drive it out. We got out to see if we could help. It turned out to be the rental car of an older British couple. Some young Minnesotans were trying to help them. Unfortunately, none of us had many useful tools. We tried our best to help them push the car and kick out the snow and shovel it with our hands. They ended up having to call roadside assistance. Oh well, we thought. At least we know what to avoid. That definitely won't happen to us. (foreshadowing!!!!! 🙂 🙂 🙂 )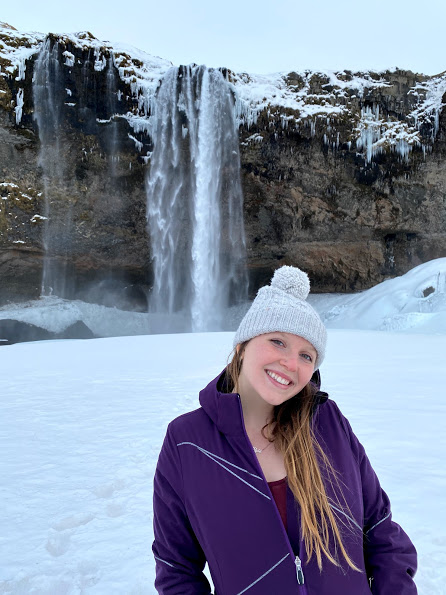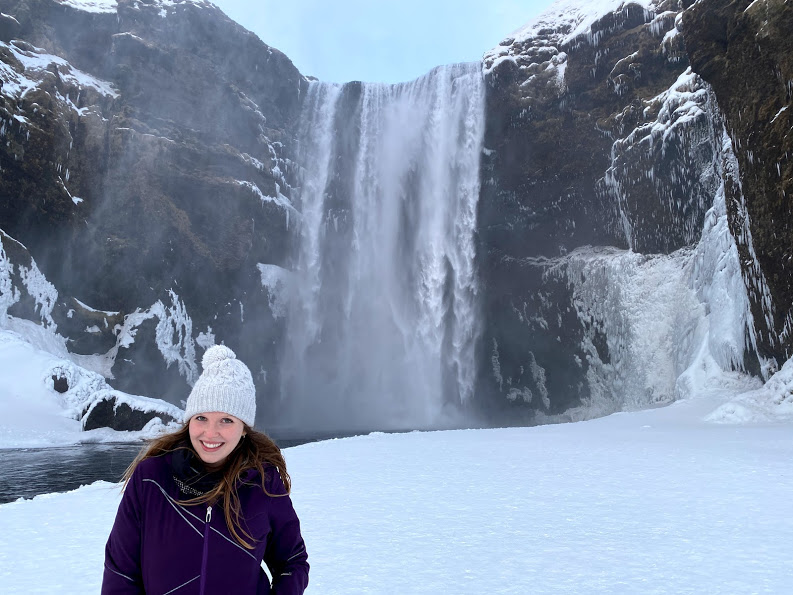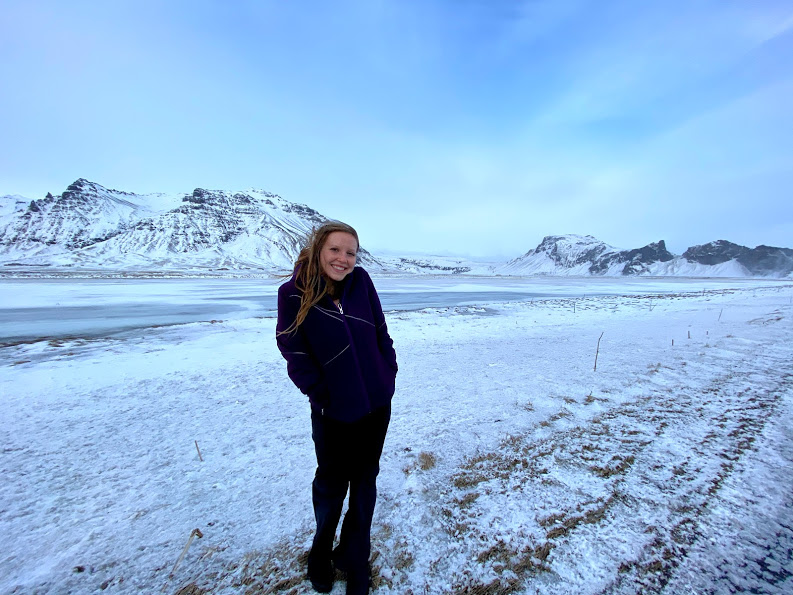 Around 5 pm, the weather started to drastically change. It was becoming incredibly windy and snowy. We got a message from our AirBNB host. They were worried we wouldn't be able to make it to the farmhouse in the weather anymore. We had another stop planned, but decided to skip it and head straight to our AirBNB. There were maybe only 40 minutes left to go, and we didn't have anywhere else to go, so we drove extremely slowly and carefully the rest of the way.
Although we were a Texan and a Californian basically trying to drive in blizzard weather (which sounds like a terrible idea, and probably was), it turned out we made the right decision. Had we not made it to our AirBNB, we would have likely gotten stuck at the Red Cross center, where over 100 other tourists got snowed in that night. (So, basically a coronavirus breeding ground.) So we felt VERY fortunate to have made it to our adorable little farmhouse.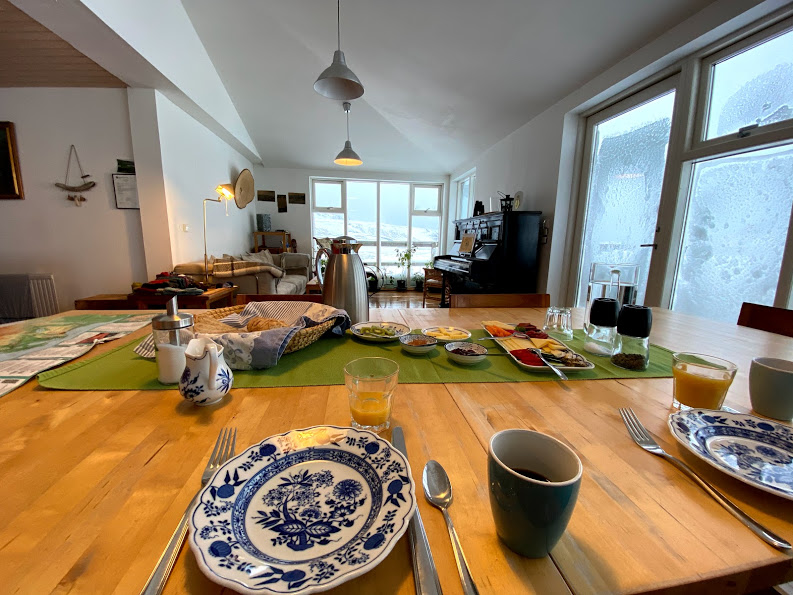 When we first arrived, the long driveway from the road up to the farmhouse was covered in too much snow for Ygritte to manage. We stopped the car and were about to call our AirBNB host, or just grab our bags and trek up to the farmhouse from there, but then our host, Jon, pulled up on his giant snow plow and started shoveling all the snow out of the way for us.
We went to sleep, very tired, and very glad to have made it. On Tuesday morning (March 10th), we woke up to news of roads closed in either direction. We had hoped to go to Vatnajokull Glacier and Jokulsarlon Ice Lagoon that day, but unfortunately it didn't look feasible according to Jon's advice. He said the roads would be too dangerous to go that far east, and we should wait until the next day. So we made a backup plan of a few things to do closer to Vik, and west of town. We waited it out until around noon that day for the roads to open. Thankfully, there are worse places to be stranded than an adorable, cozy farmhouse.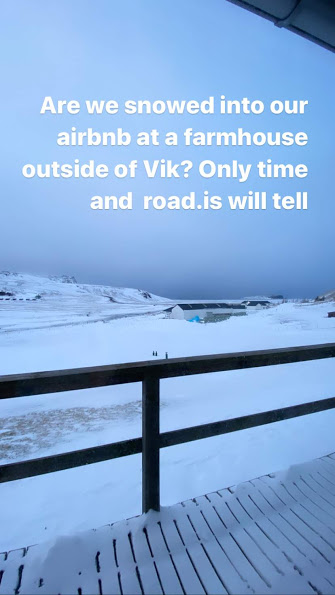 Our first goal that morning was to visit Solheimajokull, a smaller glacier slightly west of Vik. Unfortunately, we never saw Solheimajokull. There was a heap of snow, almost like a speedbump, on the small side road that led to the glacier. It looked like Ygritte would be able to get over it, no problem. She was not. We were stuck in a small pile of snow. Exactly what we thought would never happen to us.
The good thing about getting stuck in the snow in Iceland is someone's almost guaranteed to come by and try to help you within five minutes, no matter how small of a side road you're on. Within a few minutes, we had Spanish, French, and American tourists all trying to help us out. We tried pushing and revving the car back and forth and shoveling the wheels out with our small measly tools… to no avail.
Luckily, three Icelandic tour guides decided to cruise by on their ATVs. With their giant shovel. They quickly shoveled out poor Ygritte (the problem was that she was essentially sitting on top of all the snow and it was all stuck up underneath the body of the car). She was free! We thanked them profusely and we were on our way. This was our successful car rescue story. I sincerely wish I had taken a photo of this, but my mind was completely elsewhere at the time. I think that is pretty understandable, though.
After that whole endeavor, we went to visit Reynisfjara, commonly known as the Black Sand Beach, which is one of Iceland's most dangerous tourist attractions due to its "sneaker waves." There are warning signs everywhere there, advising you not to turn your back to the waves. Even more nerve-wracking was the fact that it was still extremely windy (so much that it almost knocked me over a couple times), and the snow had turned into seriously cold rain. We stayed far away from the tides. It's still definitely a beautiful, must-see beach. It's actually the filming location of Eastwatch in Game of Thrones (where the Night's Watch are stationed).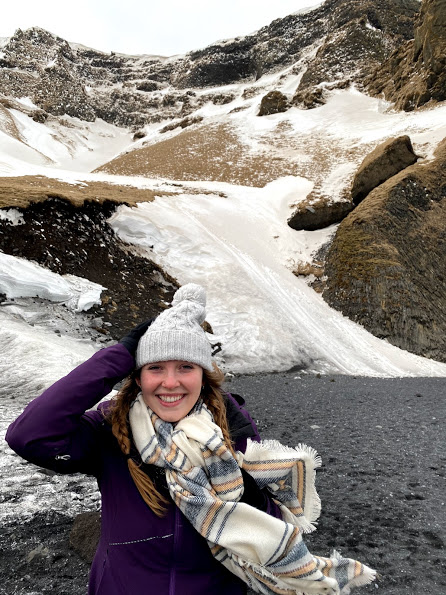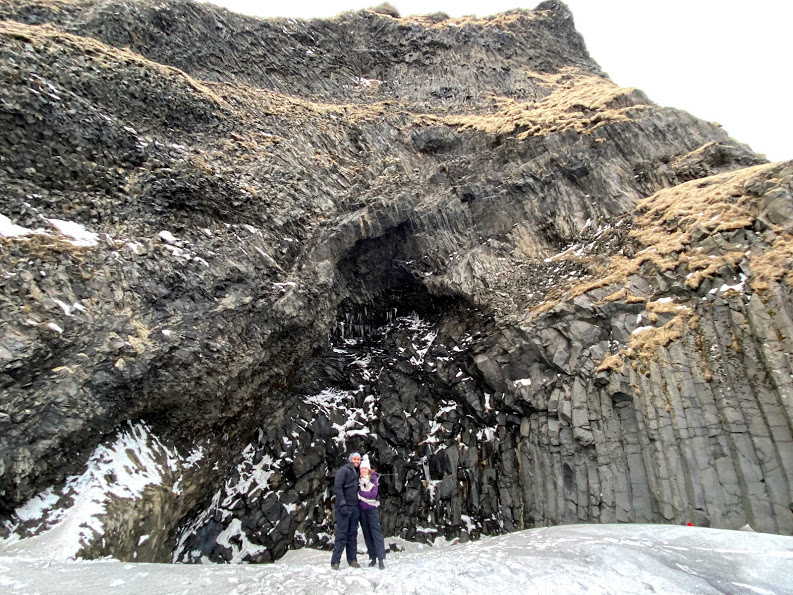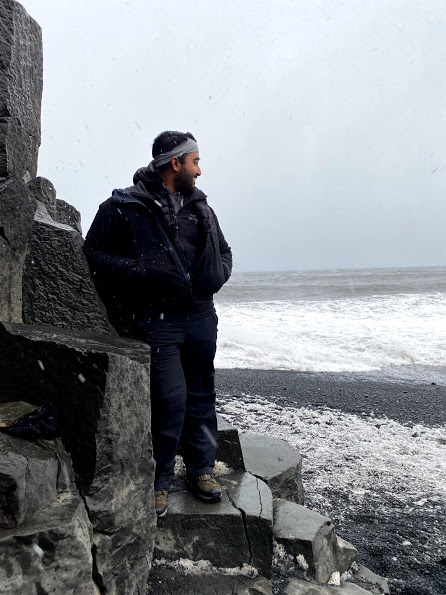 After pondering and ultimately deciding against a 45-minute (one way) walk to the Solheimasandur Plane Wreck (it was still so cold and aggressively windy that it would have been exceptionally unpleasant), we decided to head into Vik and grab dinner and a drink to kill some time before the Iceland Lava Show!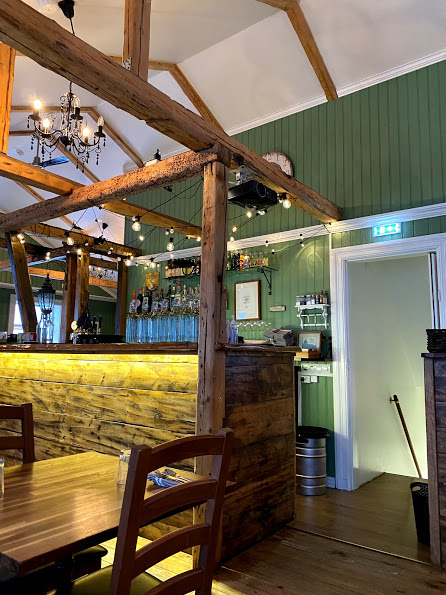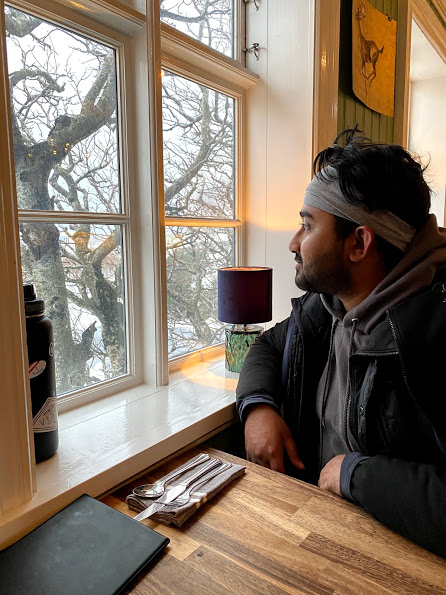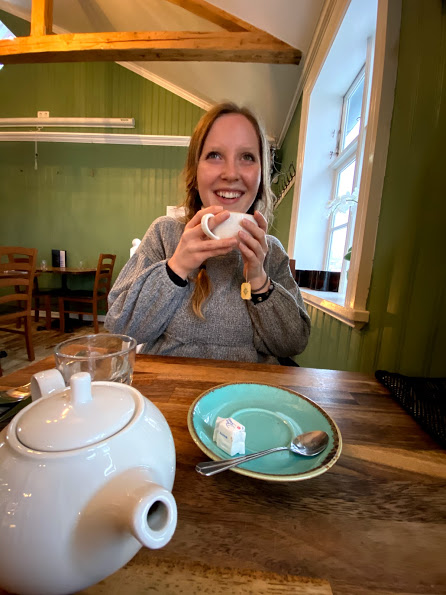 Then, we drove across town (aka 2 minutes) to the Iceland Lava Show! It was SO amazing. Seriously SO cool. In case you didn't know, this is the only place in the world you can experience real molten lava up close. Wow wow wow!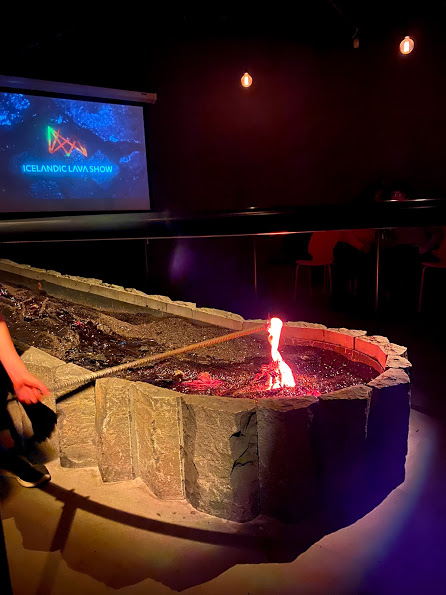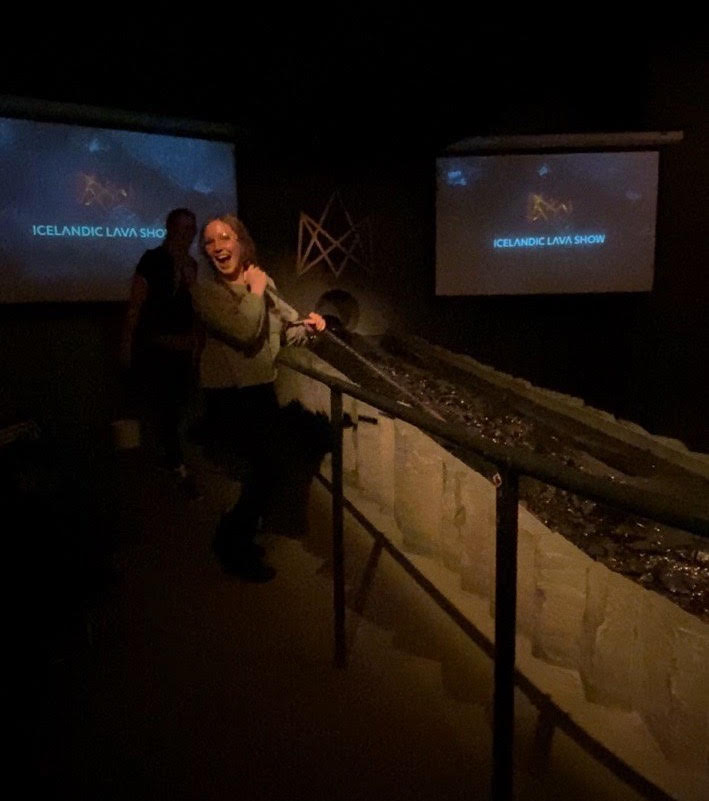 Wednesday morning (March 11th) looked much better weather-wise. We said goodbye to the farmhouse and hit the road early to make the long drive east to Jokulsarlon, Vatnajokull, and Diamond Beach.
Everything was fine on the drive there. It was a bit drizzly outside when we got to Diamond Beach. Just enough to make my phone a little wet while I held it out taking photos. We were walking along some boulders, a totally and completely safe distance from the water…. when my phone slipped out of my hand.
Anyone who knows me knows this is a completely normal occurrence. And I'm sure the drizzly rain didn't help. But what happened next was not normal. The phone slid across the boulders about six feet away from me, closer to the water, slid into a tiny crevice, where I saw it bounce back and forth a couple times, and then slid into the abyss below. And so, my phone (which was the one with the international data plan) was surrendered to the Icelandic sea.
Immediately, we started trying to peer in the crevice below to see if my phone was retrievable. We had a kind stranger try calling it. She said it was ringing, but we couldn't hear anything from the crevice. And the longer we stuck our heads in sandy holes on slippery boulders near a glacier lagoon, the more futile and dangerous the rescue mission started to feel.
So, we gave up. I would like to credit myself for not freaking out as much as I normally would about something like this. I would also like to thank Vish for, yet again, being extremely calm and supportive in the instance of me, yet again, failing to be a responsible steward of a crucially important travel item.
I reasoned with myself that my phone was the universe's karmic price for returning my passport to me just in time for the trip, and even getting to go on the trip at all. Was that totally dumb and made-up? Probably, but it made me feel better.
Nevertheless, we took a bunch of photos of the beautiful scenery….. on Vishnu's phone.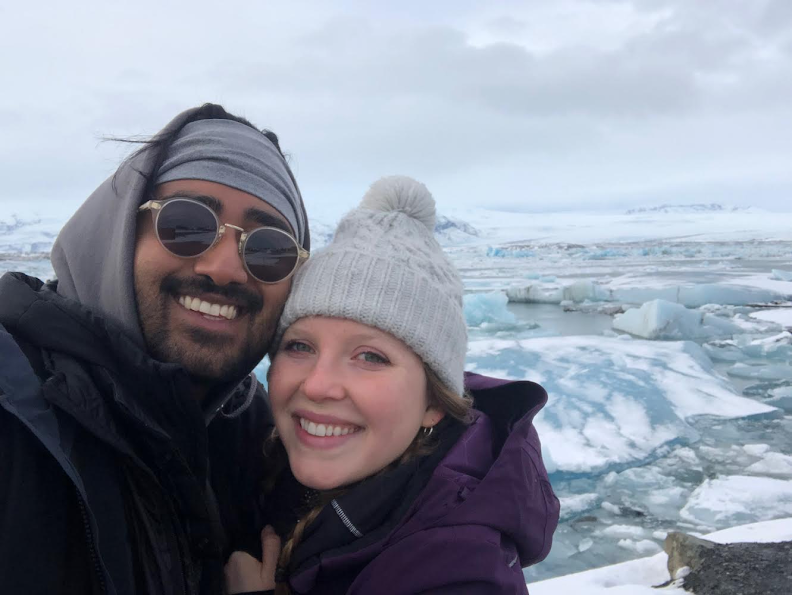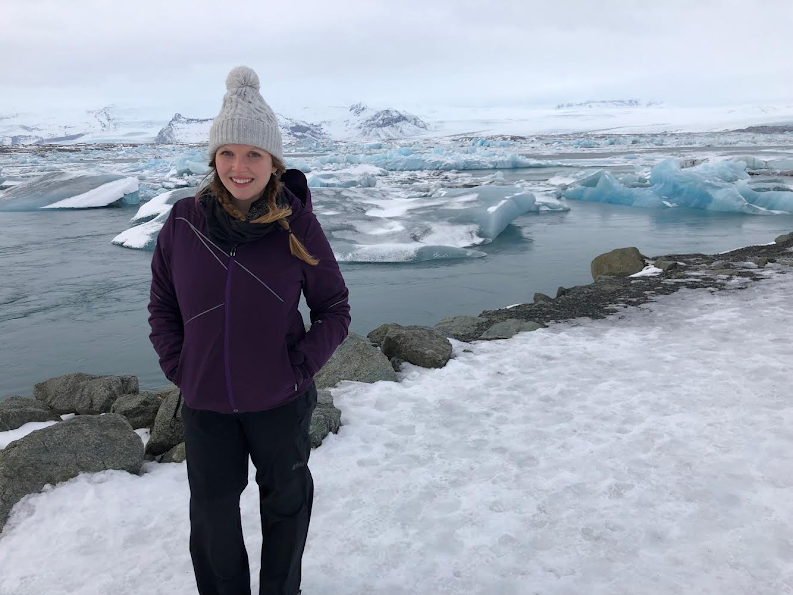 We had to drive to our AirBNB all the way in Reykjavik that night, and now we had no data, but the good news is the Ring Road is one straight shot all across southern Iceland: to get to Reykjavik, we just had to drive west. And we figured we'd be able to find wifi along the way, since we still had to message our AirBNB host and tell her what time we were coming, so that she could let us in.
So, we headed back west! It actually felt super retro – we were, like, following STREET SIGNS to make sure we were going the right way. Is that what life was like before smartphones with international data??
We stopped at a store in Vik (thanks, Icewear!) that had free wifi, messaged our AirBNB host to let her know our ETA, called my mom to tell her what happened and make sure my family knew to send all communication to Vish's phone… and then tackled the rest of the long drive, finally making it to our AirBNB in Reykjavik, where we thought we would spend the next three nights.
Wednesday night, in the US, was the night when everything changed. When we went to sleep in Iceland, however, all was well. We made a plan to get me a new phone the next day, and went to sleep.
In the morning, I woke up to these messages from my mom.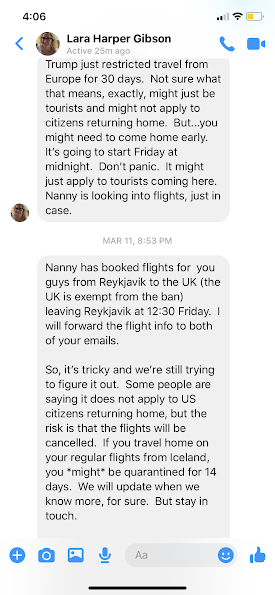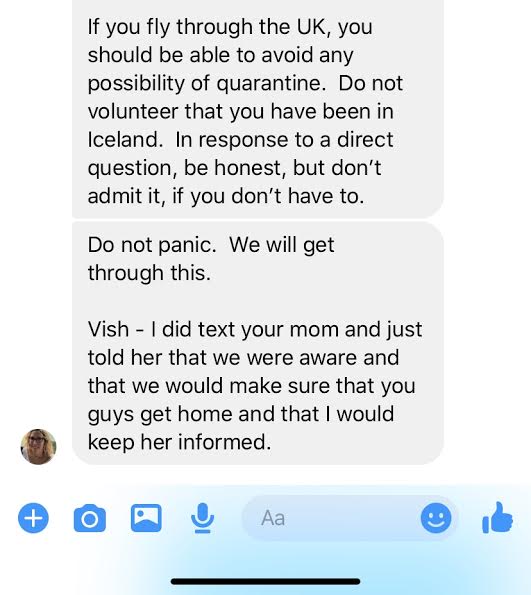 Needless to say, despite my mom telling me not to panic, I immediately started panicking. Iceland was a level 3 country now?! It had been level 1 when we left. How could that have escalated so quickly?
Then, I did a few quick Google searches and determined that because we're US citizens, we would be okay. So it seemed at the time. Also, my grandma (who I already mentioned is the coolest ever and a travel wizard), had already booked us backup flights with her tons and TONS of miles. So, either way, we were set.
At that point in time, we still planned to go on our normal flights back to New York on Saturday, spend one more evening there, and then fly back to Houston.
I strolled down the street in Reykjavik (which was pretty freaking empty, despite being the main shopping street) to Macland to get a new phone, then we went to Vodafone to get a SIM card. In a previous call with AT&T, they had told me that as long as I got an unlocked phone and any SIM card, they could activate it with my existing phone number via a phone call to their international customer care line.
Upon calling their international customer care line, this turned out not to be the case. And that's the story of how I had an Icelandic phone number for a few days!
After getting the situation sorted out, we decided to drive out to Kerid Crater. We still weren't sure exactly what the plan would be, although we were starting to skew more toward flying home earlier. So we decided to make the most of our remaining time.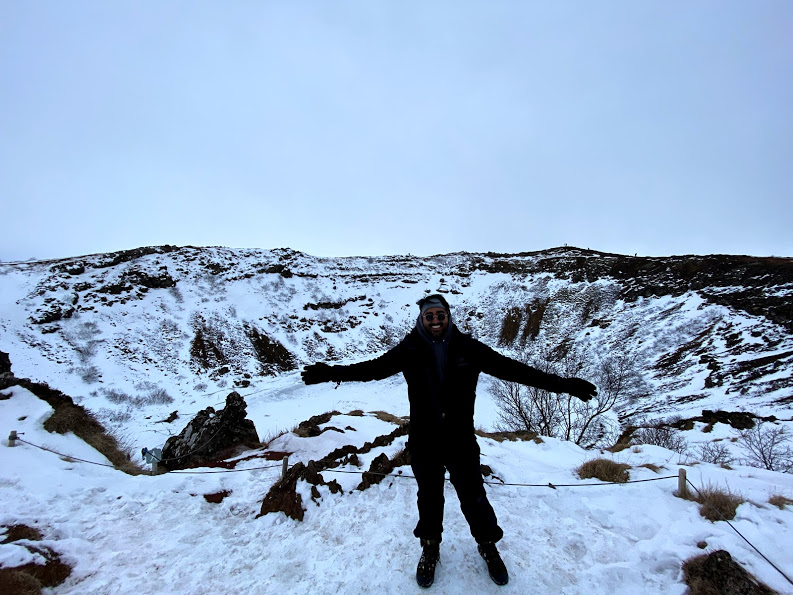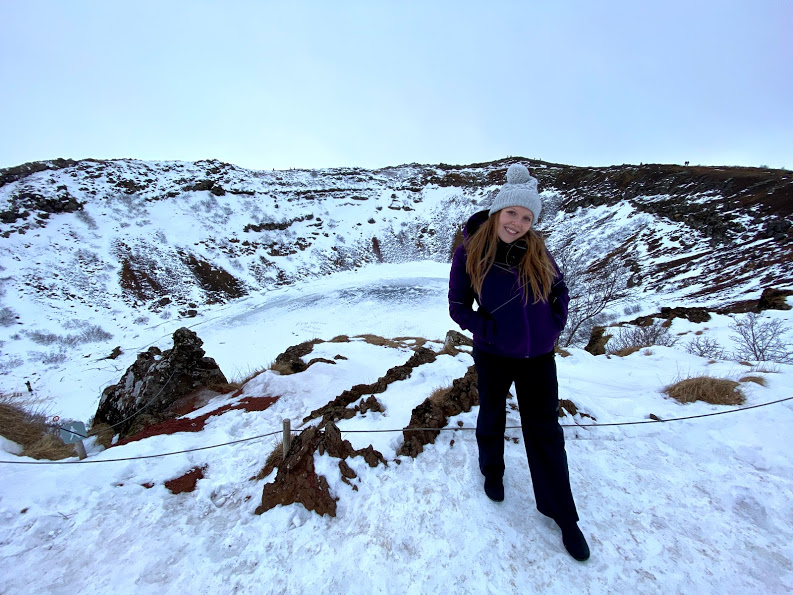 Then we decided to stop by Fridheimar for a late lunch. It's a tomato greenhouse we'd heard was a must-see. I fell in love with it immediately. I am coming back to Iceland one day, and I am coming back to Fridheimar.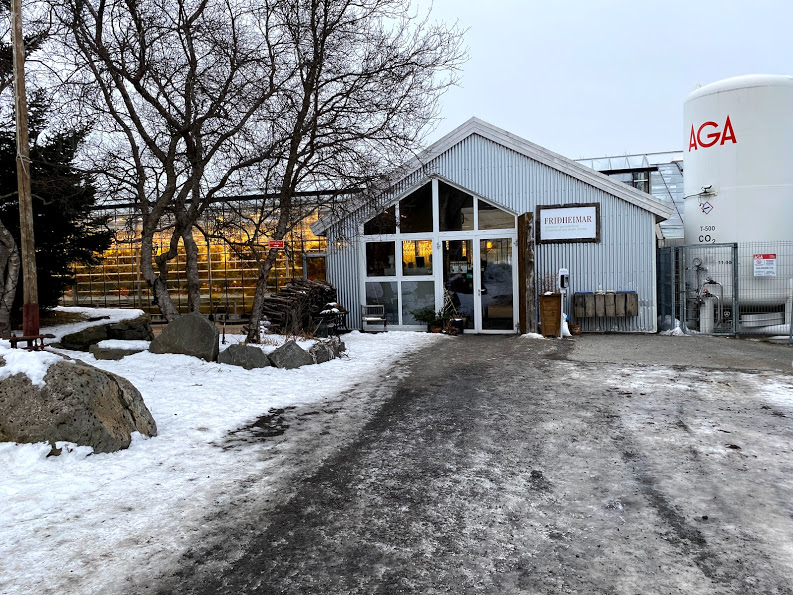 And it was just as adorable on the inside! I swear this is the most delicious tomato soup and bread I've EVER had, and it was absolutely my favorite meal in Iceland (not that we had many, to be honest. We mostly subsisted on muesli and oranges in the car).
Another fun fact – one of the reasons this place is so amazing, is that it is completely run on geothermal energy! They keep their lovely tomatoes growing all year round on completely green energy. I absolutely love it.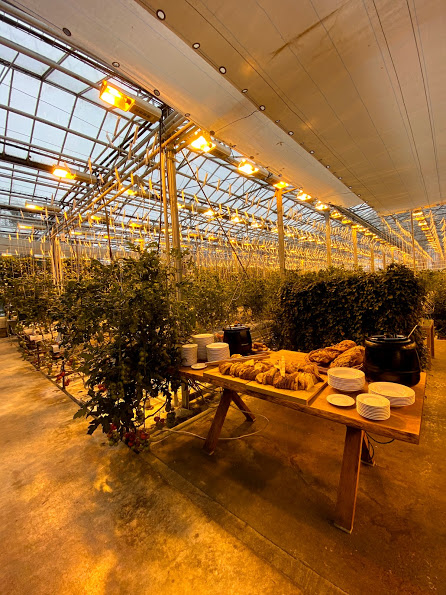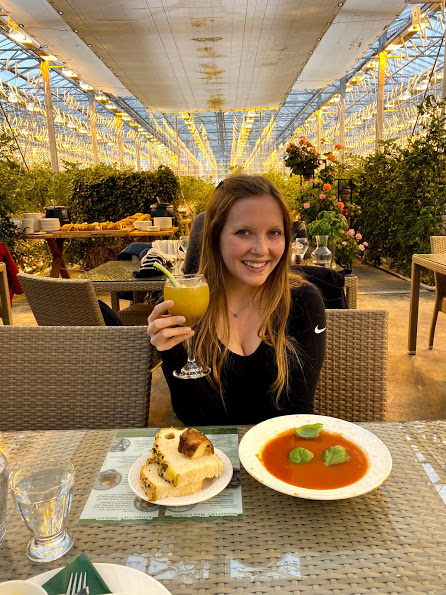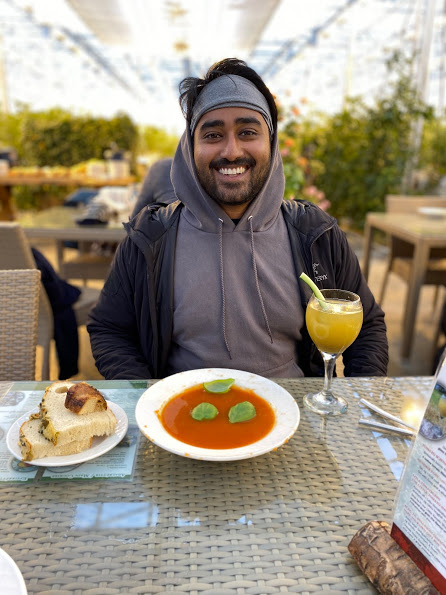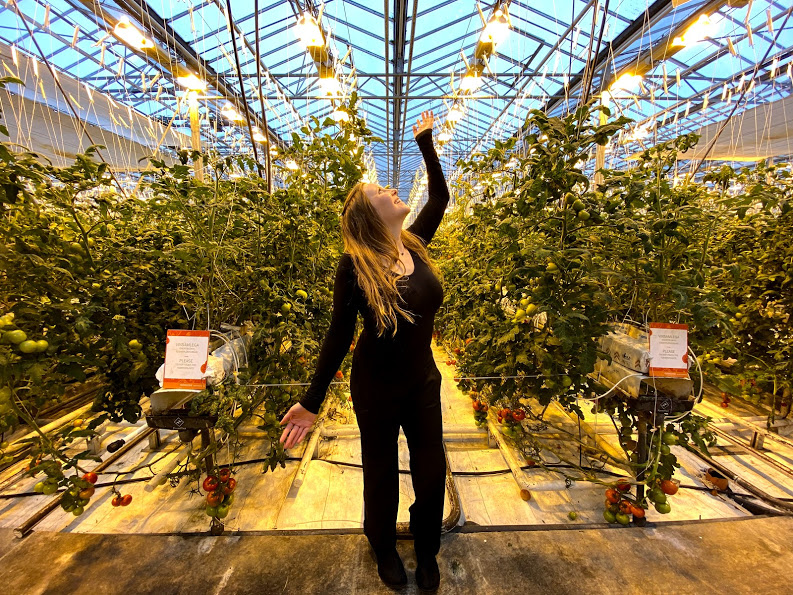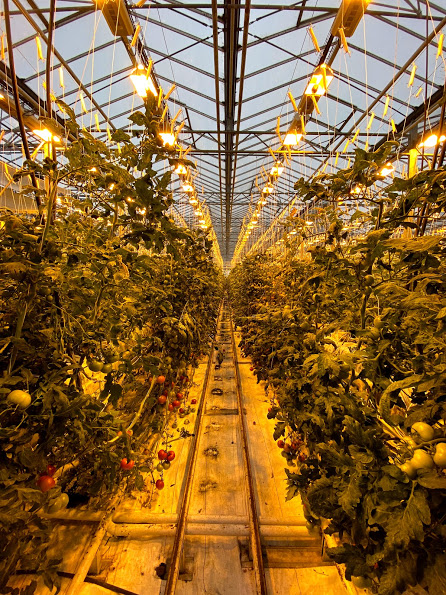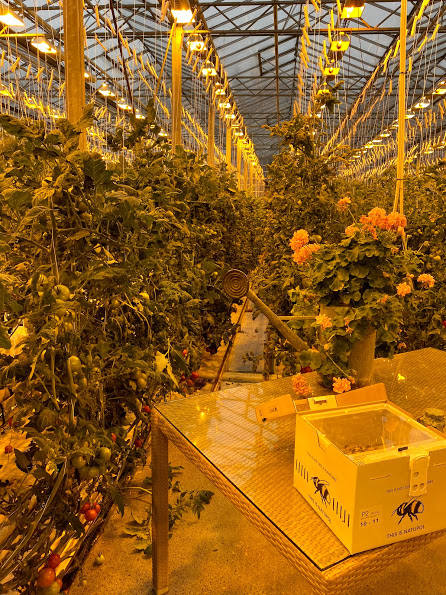 Over lunch, we decided to take the flights to London the next day (Friday) at noon. We were starting to feel a bit nervous about everything that was happening and the unpredictability of it all, so we were ready to be on our way home soon, even though it meant cutting our trip short by a day and a half.
There was a lovely, completely pleasant (unlike what we had experienced before) light snow flurry when we stepped outside. Obviously, we took a few pictures. 🙂 We both agreed it's one of the most beautiful and peaceful places we've been.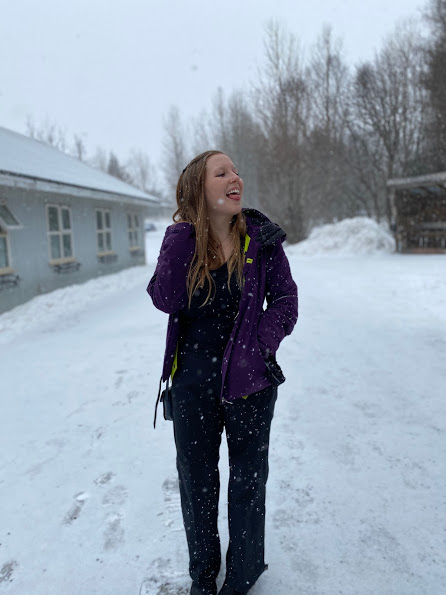 We stopped by the stables on our way back to the car, too.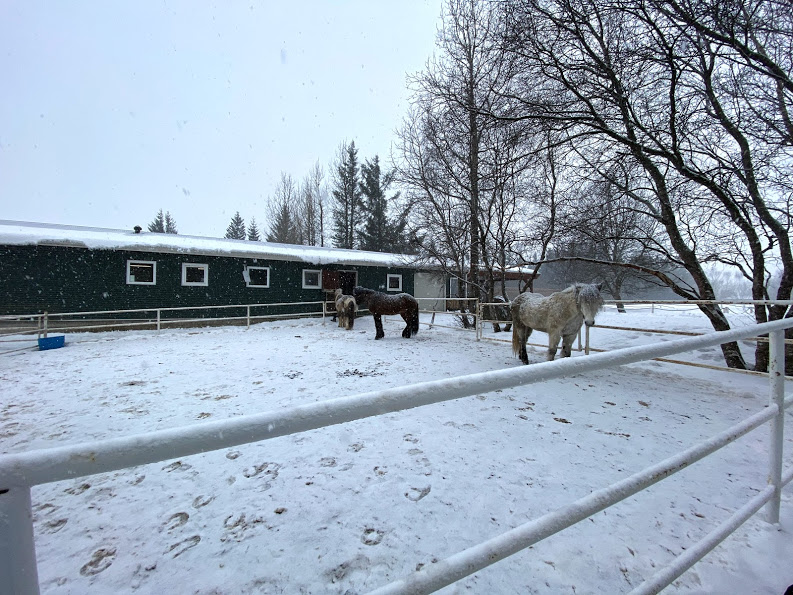 Next, we had one last stop planned before we were going to call it a day – the Geysir!
On our short walk there from where we parked in the Geysir center, the snow became horizontal, and decidedly less pleasant, as you can tell from this picture.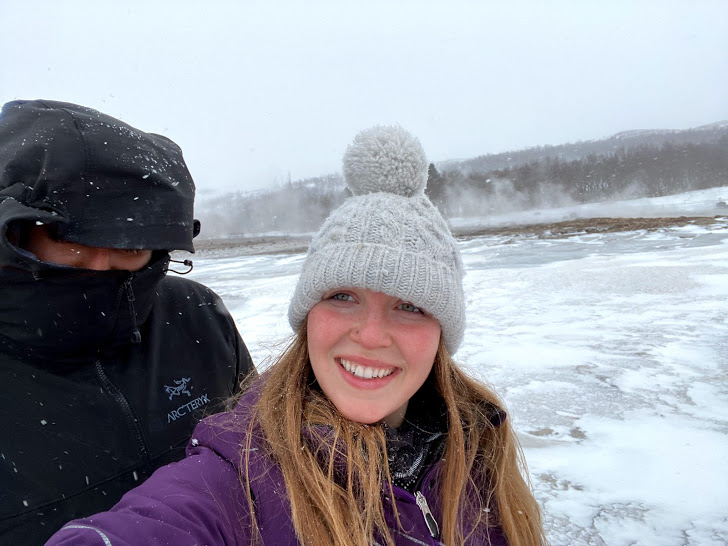 In retrospect, we probably should have taken this as a warning sign, but nevertheless we enjoyed the geyser.
(I'm trying to upload a video of it erupting, because we took one and it was very cool. But apparently the file size is very large. If you still see these words here, that means I have given up on trying to upload it. If you want to see the video, tell me and I will send it to you somehow. LOL)
Then, we started our drive back to Reykjavik, to get one more good night's sleep at our AirBNB before we flew out at 12 the next day.
And that's where we ran into our final challenge (at least while in Iceland). Along the way back to Reykjavik, just outside of Laugarvatn, it became completely white with snow outside and was impossible to see. And so, poor Ygritte ended up on the side of the road stuck in snow yet again.
The good news: we were in Iceland! So we had help in about 5 seconds. A Hungarian couple, a few other people, AND our soon-to-be best friend and Icelander, Bjarni, stopped to try and help us push and rev the car out of the snow. But Ygritte was definitely not budging. In fact, she slid downward a bit, away from the road even further.
(Yet again, I wish I had a picture of this, but I'm sure you can understand my mind was elsewhere.)
We called our rental car company to let them know we needed roadside assistance. They assured us the tow truck was on their way and would arrive in about 20 minutes. Bjarni offered to drive us to a patrol station five minutes down the road, back the direction we'd come from, to wait and warm up. It seemed no one was going down that road for the foreseeable future. That also seemed good to me because a patrol station meant people who could potentially help us and maybe clear off the road, right? I asked the rental car company if it was okay for us to wait a few minutes down the road. They said yes.
When we got out of the rental car, I suddenly had a feeling we wouldn't be going back. Vish and I grabbed all our bags. Just in case, I said.
When we got to to the patrol station, I realized it was not a patrol station. It was a PETROL station. And it was closing. So much for that plan.
The Hungarian couple told us they were going to a hostel right next door, and that they would probably stay the night there. At this point I called the rental car company again to check on the towing. Just a few more minutes, they told me. He's almost there, they told me. And yes, it was okay for us to wait at the hostel.
Bjarni said goodbye to us at the hostel, and told us that he would be stopping at a nearby cabin he had, but then probably driving back to Reykjavik later that night, if we were still stuck. We got his contact information and thanked him.
At this point it was probably 7pm, more than an hour after Ygritte had initially gotten stuck in the snow.
To be honest, the next few hours were hellish. We ended up being at the hostel until 10:30pm. I called the rental car company to check on the towing about 9 times between 7 and 9pm. Around 9pm, we decided to book a room at the hostel and stay the night. We made arrangements for a taxi to take us to Reykjavik first thing in the morning. I told the rental car company that we were going to have to abandon the car if they didn't send someone to help us tonight. They said they didn't know where the tow truck was or why he was taking so long to get to us.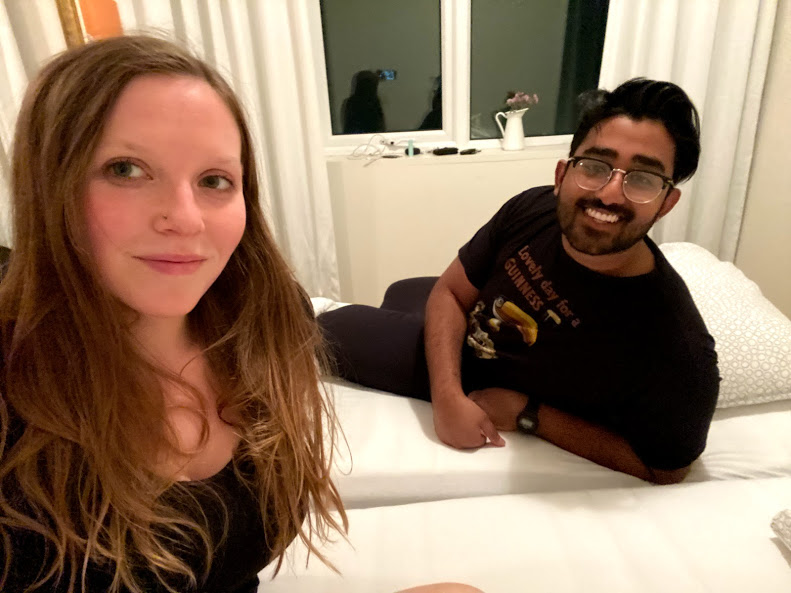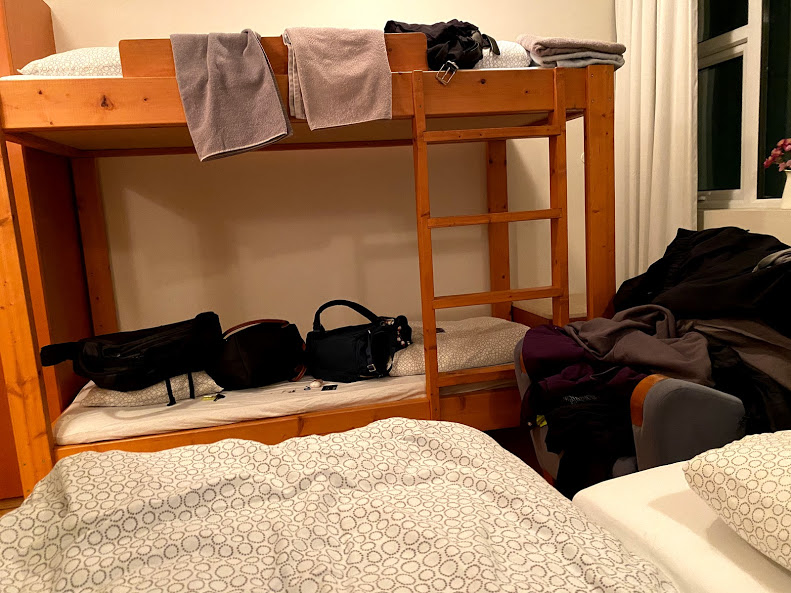 Shortly after, Bjarni called us and told us he was driving to Reykjavik that night! We went to the front office and told her we weren't staying there. She refunded us (we weren't even expecting that! wow!) I called the rental car company again. They said, again, the tow truck would be there in a few minutes. It had now been more than three hours since we initially called for assistance.
Then Bjarni called back. He said HIS car was stuck. We sadly called the rental car company one more time; at this point they said it was unlikely we would get help that night. We told them we HAD to get back to Reykjavik very early in the morning for a flight; could someone come and help us get the car at 6 or 7 am so we could drive back? He literally laughed and told me no, that was too early. I told him we would have to leave the car, then. He said okay, they would tow it back to their office. We would just have to return the keys at the airport where we'd picked them up.
We went back to the front desk, paid for our hostel room again, and resigned ourselves to staying there. We decided we were stuck with the plan of calling a (SUPER expensive) taxi in the morning. It was scheduled to come at 6am.
Then, around 10:00, Bjarni told us he got his car out!!! He was driving to Reykjavik that night. We did a quick risk assessment of getting into a car for an hour and a half drive with a man we just met on a snowy night, but ultimately, we made our decision based on one fact – Bjarni is an Icelander. Everyone we'd met in Iceland was excessively nice and excessively used to snow. So, we went for it! Around 10:45, Bjarni picked us up, took us right back to our AirBNB before heading home to his apartment in Reykjavik. We got back around 12:15… and promptly realized that the load of laundry we'd put in that morning was all still soaking wet. We quickly took it all out and laid everything out on radiators and drying racks, hoping it would be dry by the next morning. I booked a Flybus for us to take to the airport the next morning. Then, around 1-something, we finally got to sleep.
On Friday morning, we woke up and quickly collected our laundry. I ran out to get some pastries at Braud og Co (extremely delicious, highly recommend, especially the hazelnut vanilla pastry).
Then we rushed with our bags to the pickup spot at Hotel Klettur. The bus was a bit late, so I started getting a bit stressed about taking the shuttle to the rental car office, returning the keys, taking the shuttle BACK to the main terminal, and then going through security, boarding our flight, etc.
I called SAD Cars and they actually agreed to meet us at the main terminal to pick up the keys! Yay! But when we met up with her…. she handed me a $750 towing fee. Apparently because they had to tow the car all the way back to their Reykjavik office… it was insanely expensive.
So, I'm still in the process of fighting that, mostly on the premise that.. well, if roadside assistance hadn't completely abandoned us for the night, we wouldn't have had to abandon the car, and we could've driven it back rather than had it towed back! If we had only relied on them rather than the kind strangers we met, we would literally have been sitting in the snow in a car overnight.
I told this to a lady at the airport who was doing official surveys of tourists on behalf of Iceland, asking about how our trip was. Yes, apparently that's a thing. She agreed with me that this was not cool. She told me Iceland is beautiful but it can be dangerous. I honestly don't know what would have happened to us if we had only relied on the rental car company/towing company to do what they said they would.
We landed in London that afternoon. We rested up at our hotel for a bit, then decided to venture out for dinner and a walk along the Thames. We ate at Wagamama and saw the London Eye lit up at night! We also saw Big Ben, but he's under construction right now.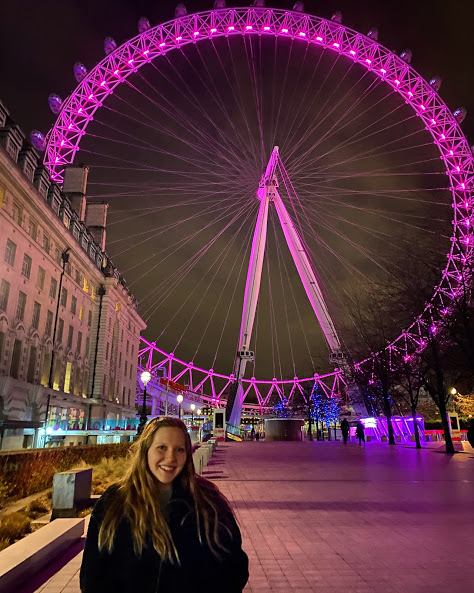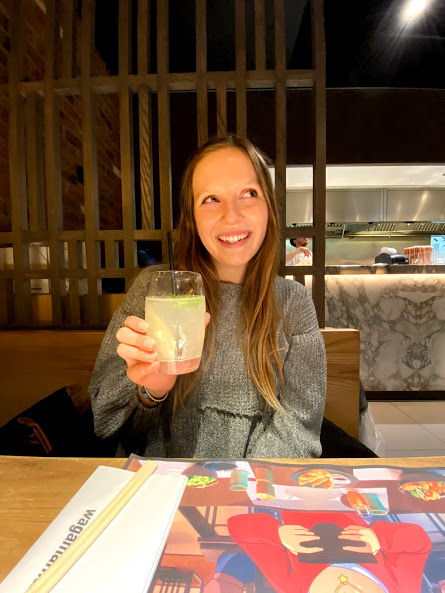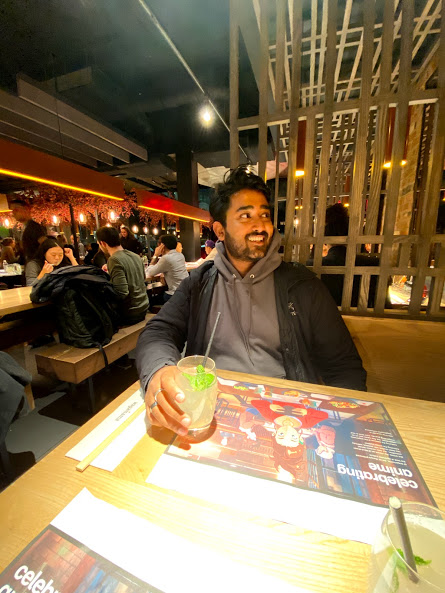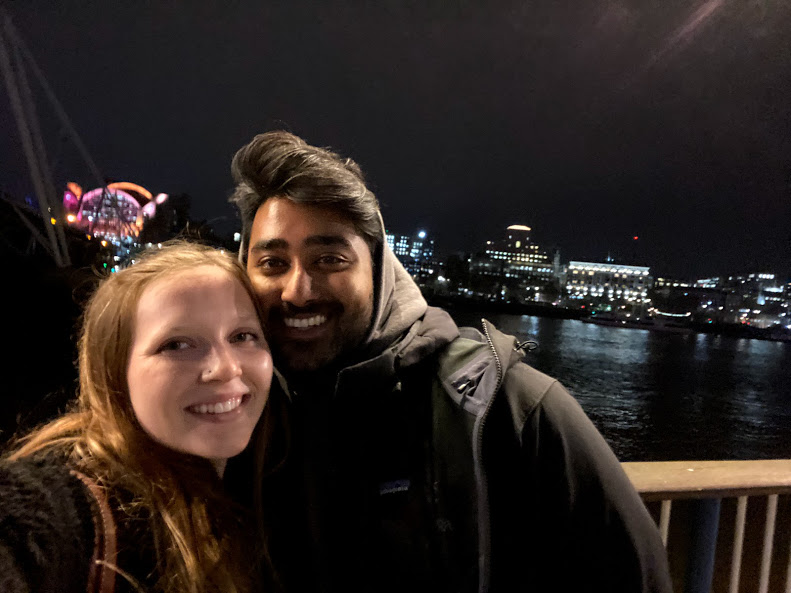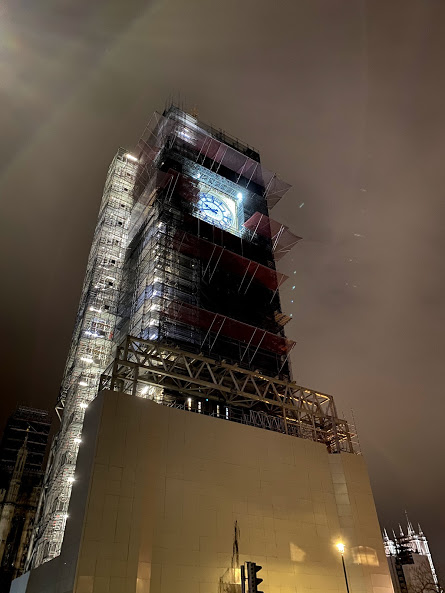 Our flight to Houston was scheduled to leave at 9:30 in the morning. But when we got back to the hotel, my grandma soon called us. It was bad news. Apparently, Trump ordered all Americans returning from level 3 countries to be directed to just a few airports across the nation. Houston was not one of them. We would have to fly to Dallas. Also, the UK had been added to the travel ban. My grandma was already waiting for a callback from the airline, trying to rebook us.
Eventually, when they got back to her, they said we would need to just go to the airport and rebook there. So we made a plan to get there at 6am the next morning (Saturday) and hopefully beat the crowds (we imagined we weren't the only Americans in London in this position) and get rebooked on a flight to Dallas that same day.
Turned out we made the right decision. When we got there at 6am on Saturday morning (March 14th), we were second in line, behind a guy trying to fly to Austin. He was told there were no flights to Dallas that day. Our hearts sunk, but we figured we would try to get on a flight the next day.
We ended up getting redirected to another ticketing agent by the airport staff, for some odd reason. She told us she was only one of two people they had on staff that day who was trained for ticketing, and she expected to be doing it all day even though she hadn't done it in over three years.
Clearly her skills weren't that rusty – she booked us on a flight to Dallas that day at 3:45 pm! Much later than anticipated, and there were no connecting flights to Houston since the flight landed at around 9:30 pm, but we were honestly just so happy to be flying back to Texas that day.
I booked a rental car at the Dallas airport that we would return in Houston. We went back to the hotel to sleep for a couple more hours.
When we returned at around noon, we knew we had definitely made the right decision. There was now an insanely long line of Americans trying to rebook their flights. Most of them, I imagine, were pretty disappointed.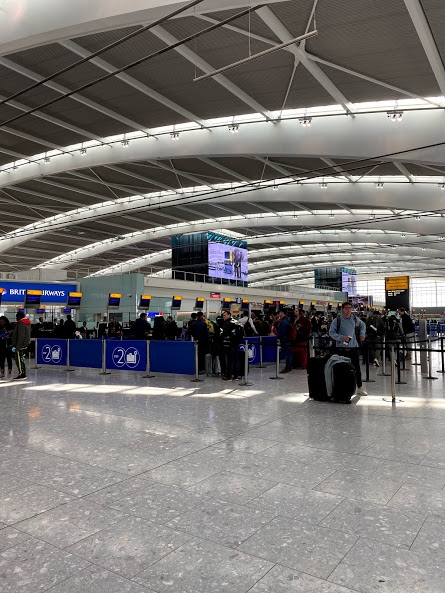 We got on our flight and watched a movie, then promptly went to sleep again, not knowing what to expect what when landed. But we knew we wanted to be fully rested for whatever was to come.
We woke up shortly before landing. The British Airways staff was honest with us about the fact that they didn't know what to expect with regards to this "medical screening" as much as we did. We're going to open the door and the medical team is going to board the plane, they told us initially.
Never mind, it turned out. A staff member came back on with a stack of forms. They asked us to raise our hands if we had been to a level 3 country. Vish and I raised our hands. This is the form we got.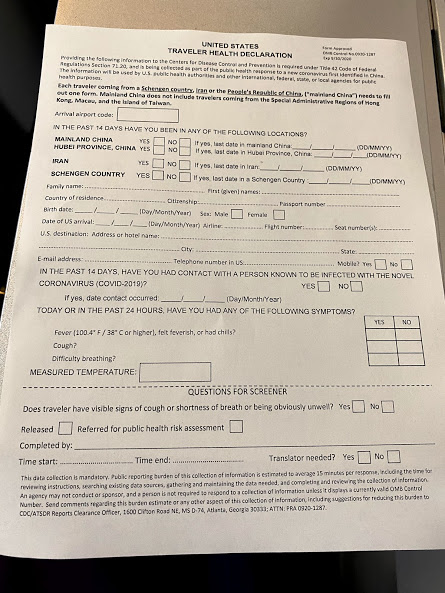 We were both feeling completely fine (not that that means we weren't/aren't asymptomatic carriers….), so we filled out the form accordingly. We expected to have our temperature taken.
Then, we all got off the plane and headed to passport control. Vish and I both have Global Entry so we headed to the slightly shorter line, passports and forms in hand.
The medical professionals were easily distinguishable. They were wearing masks and scrubs, holding clipboards, and standing next to each passport agent.
We turned in our forms and greeted the staff. We chatted a bit. We told them how many days we were in Iceland, how we'd had to cut our trip short, how we had to get rerouted through Dallas, and how we were driving to Houston that night. They seemed surprised and sorry for us. They…. didn't measure our temperature, and then sent us on our way after a quick glance-over.
So that was the medical screening, I guess? We drove back to Houston in the rental car, and now we're under self-quarantine for these two weeks.
And that, in this extremely long blog post, has been the story of my trip to Iceland and all the various misadventures that occurred.
One thing's for sure, is I have a lot to be grateful for. Thank you to my amazing family, Vishnu, Barbara, the Travel Fashion Girls, and everyone who supported me along the way and kept me from having even more breakdowns than I already did. I am also very grateful to be home now with my adorable cats. I hope you enjoyed, and I hope you're all having a safe and happy quarantine/social distancing time. Stay healthy everyone <3